{This is my monthly book review.  Thanks for allowing me to share my thoughts.}
"Our Father, who art in heaven, hallowed be thy name."
We say the words almost on autopilot. Sometimes we speak them without thought.
We learned them as a child, memorized by rote, and quoted them weekly at Sunday school. Perhaps they have become less to us because we have used them so much.
But I hope not.
We call it the Lord's Prayer, taught by our Lord Jesus Christ to His disciples in  the gospels of Matthew and Luke.
When We Say Father, Unlocking the Power of the Lord's Prayer is a sermon of its own.
"Adrian Rogers' last written manuscript before his passing in 2005 has been edited and brought together by his son Steve, as a final joint work. When We Say Father takes the Lord's Prayer and breaks it down to its most basic components for readers to easily learn how to pray from the ultimate source, Jesus himself."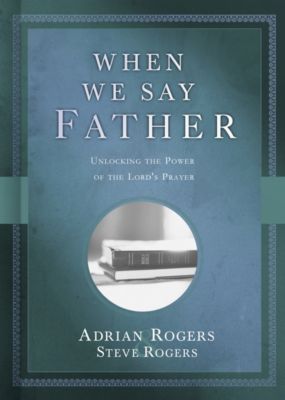 As I read the book, I could almost hear Adrian Rogers preaching from the pulpit. It is not a cleaned-up, edited, watered-down version but purely from the heart of a man who knew His God and wanted others to know Him.
The writing is more conversational than precise and particular. I felt like I was listening to Rogers as much as I was reading his words.
Rogers takes each portion of the Lord's Prayer and talks it through with homespun illustrations, teaching the basics so we can understand.
Chapter titles include:
Our Father – "The Person of the Prayer"
First Things First – "The Priority of the Prayer"
Our Daily Bread – "The Provision of the Prayer"
The Freedom of Forgiveness – "The Pardon of the Prayer"
Deliver Us From Evil – "The Protection of the Prayer"
Thine is the Glory – "The Praise of the Prayer"
Ask, Seek, Knock – "The Promise of the Prayer"
If we want to understand the depth of the meaning of Jesus' words, then we need to dig deep, like one exploring for treasure. The Heavenly Father invites us to know Him, and that is an astounding realization.  But we have to make an effort. Learning to pray like Jesus is a way to know God, Jesus' example becoming our own.
"When we say Father, we express His nature. . . . When we say Father, we expect His nurture. . . . And when we say Father, we ought to exalt His name."    — Adrian Rogers
NOTE:   I received a copy of When We Say Father, Unlocking the Power of the Lord's Prayer by Adrian Rogers and Steve Rogers, provided by B&H Publishing, for an honest review.  The book was free.  The words are my very own.